XENOMARINE
Alpha 4 is now available, featuring 40 new alien types, and fully destructible environment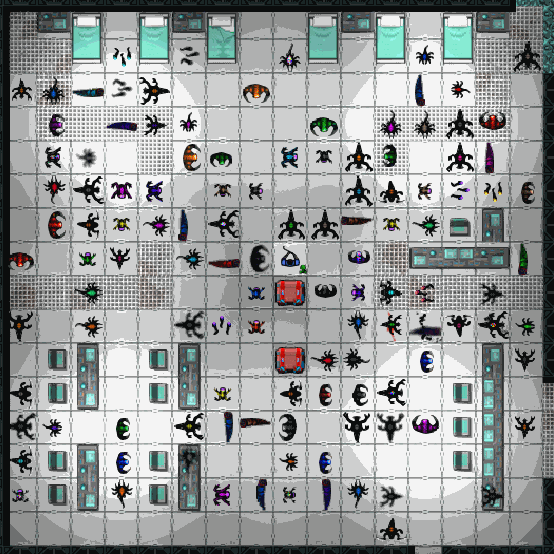 Full changelog is available here, but here are a few of my favourite things:

* Alien plants- these only grow in alien biomass caverns, and of course they can't move. However they will try to eat you, meaning that exploring the caverns comes with a heightened risk factor! This is particularly the case given the random-walk-generated, windy nature of the caverns meaning it is very easy to suddenly find yourself within biting range of a plant. Another cool thing about plants is that unlike other alien types, they are generated in variants that depend on the level's randomly generated colour scheme.

* Phase-shifted alien variants. There's actually three new alien variants for each alien type, in addition to a whole new alien type (the 'slicer' - go figure) meaning the total count of new enemy types including plants increases by 48, taking me much closer to my initial goal of over 150 distinct alien types. But it's the new variants that will be more noticable from the start of the game, as new types are only introduced more gradually, and I've also modified alien generation so that more variants are accessible from the early levels. And to get back to my favourite bit, this includes 'phase-shifted' aliens that will phase-shift their way right through the walls to find you when you least expect them.
* Removed visual artefacts - finally managed to fix the issue of visual artefacts (in fact thin vertical white lines) that were appearing on some but not all systems while scrolling the map.
* Destructible walls - Xenomarine now has a pretty much fully destructible environment- walls, doors and furniture like beds and tables can all be destroyed by weapons with the 'explosive' damage type. The only thing that can't now be destroyed are the terminals which allow the player to do things like level up, just because I can't think how being able to destroy these would serve any useful gameplay purpose.
Files
Xenomarine Alpha 4 PC Demo (3 levels)
68 MB
Dec 08, 2017
Xenomarine Alpha 4 PC
68 MB
Dec 08, 2017
Xenomarine Linux Alpha 4 Demo (3 levels)
89 MB
Dec 08, 2017
Xenomarine Linux Alpha 4
89 MB
Dec 08, 2017
Xenomarine Mac Alpha 4 Demo (3 levels)
72 MB
Dec 08, 2017
Xenomarine Mac Alpha 4
72 MB
Dec 08, 2017